Use this calculator to determine how much it would cost for us to come out and shred your documents.
We publish our rates because our prices are the lowest!
In the rare case that you get a better bid, our policy is to beat it by a worthwhile amount.
UPDATE:  Please scroll down to see the new list of materials that we can no longer shred due to changes in the worldwide recycling industry.
Use this picture as a guide.  For "Number of large boxes" count how many 10" x 12" x 24" boxes you have.  For the largest boxes, count two regular boxes for every one.
We realize that you may not have your material in these nice boxes.  That's OK!  We don't care if you have it in boxes, trash cans, trash bags, or just stacked on the floor.  We can measure the number of boxes in our bins when we get there.
One more thing - this estimator is based on your zip code, and in most cases, this is the price you'll pay. However, if you live in an area that is remote or hard to access, we may have to charge for the additional time.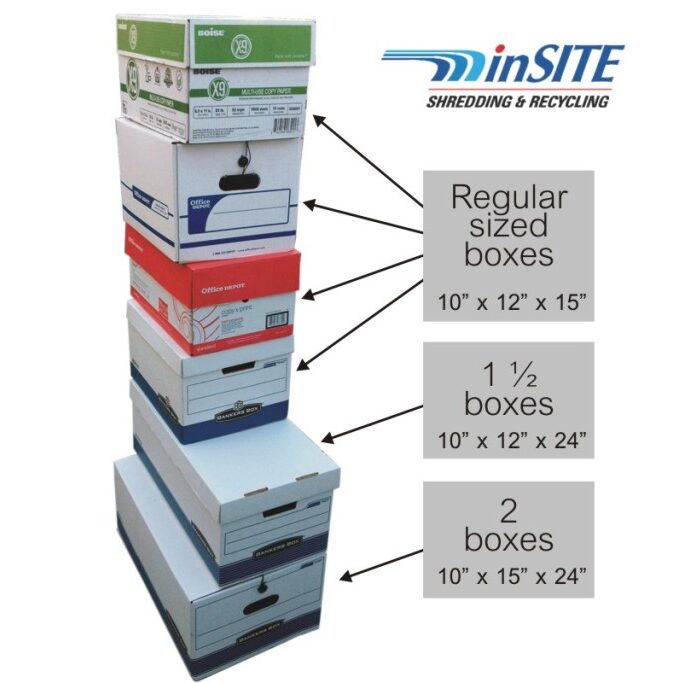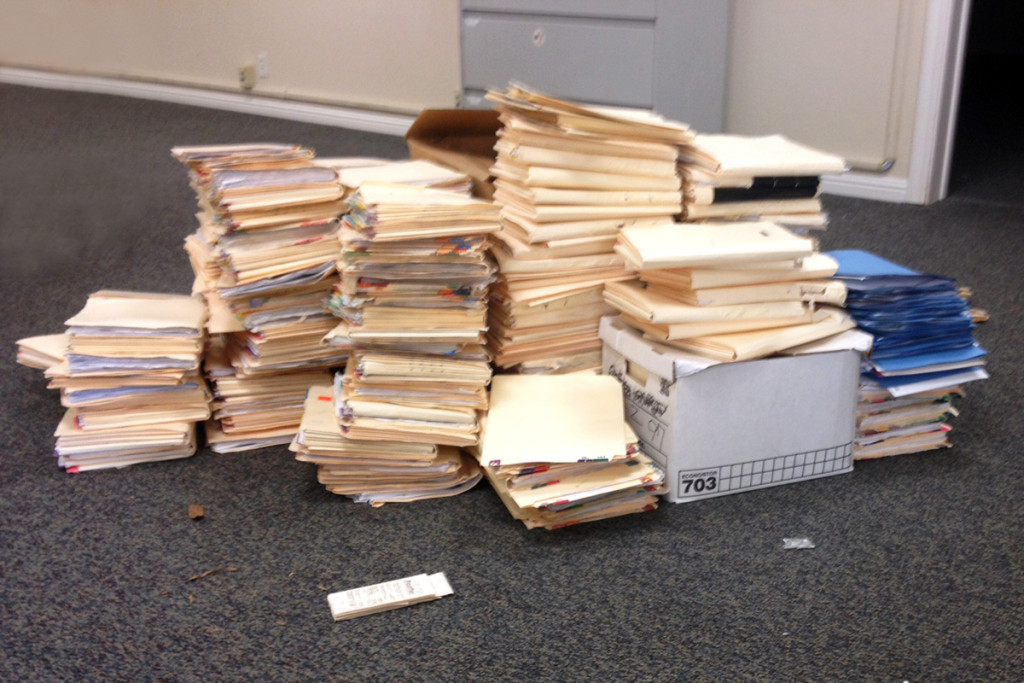 Please note: Updated materials that cannot be shredded:
The recycling industry changed significantly in 2019. Many materials that we used to shred along with your documents can no longer be accepted.  Prior to our arrival, please spend some time making sure that the following items have been removed.  Our pricing is based upon our ability to recycle the material, and contaminants can cause us to have to landfill our whole load that we collected for the day at great expense.  We apologize for the inconvenience and appreciate your help.
Materials that are currently unacceptable:
*Anything plastic including report covers, paper protectors, bubble pack mailers, x-rays, shrink wrapped items, transparencies, binders, CD's and floppy disks.
*Any heavy, dark items including hanging folders, brown grocery bags, photographs, and Pendaflex folders.
*Only minimal amounts of newspapers, magazines, and dark or brightly colored folders are allowed.
*Staples and paperclips are still OK!